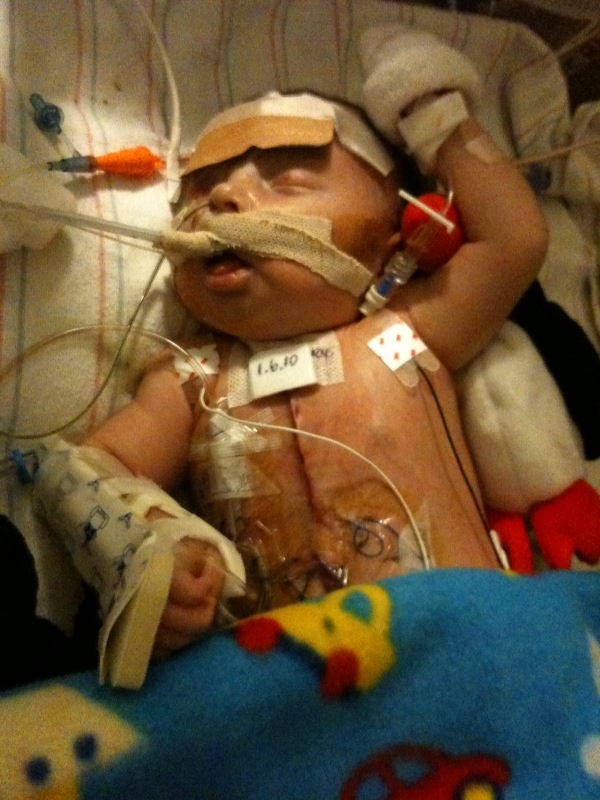 "Patience—the ability to put our desires on hold for a time—is a precious and rare virtue. We want what we want, and we want it now. Therefore, the very idea of patience may seem unpleasant, and at times bitter."
          I would say the day after I found out I was pregnant with Krew, was the start of my patience journey. I knew it was going to be a long, hard journey. I didn't know exactly what to expect.  Even though I felt like I was being very optimistic and patient, it also felt like I was on pins and needles most of the time wondering what was going to happen.
            After 5 long and very hard months of bed rest, I was so excited to have Krew, finally. The day I had Krew, was amazing and hard. Labor was not easy, I ended up delivering a month early because of preeclampsia, and had some complications during labor. After delivering Krew, they took him straight to the NICU. He was there for a few days, and shortly after we found out Krew needed open heart surgery as soon as possible, and he was air-vacced to St. Joe's Hospital. Everything just kept happening so fast, I didn't know what to expect.  I will never forget the 6-7 hour surgery for Krew. He was so little at only 6 pounds, and I just waited, prayed, and prayed some more.  He did great though, and after surgery we started his long 2 month recovery in the ICU. It was so hard seeing Krew like this everyday,hooked up to so many things, fighting for his life. Krew ended up getting a few more complications after surgery. I couldn't even hold my baby everyday. Having to watch your baby, and not being able to hold him and help him, is a horrible feeling.
                    I was so happy the day we got to bring Krew home. I was happy, and also nervous. I never would of thought I would be bringing a baby home on a feeding tube and still hooked up to oxygen. He was still so very fragile. I was just so happy he was there, and I got to hold him and cuddle him all day long. It was one of the best days of my life.
                  Ever since the day we brought Krew home, I have learned so much. Patience, being one of the things I have had to learn more than anything else. Krew doesn't have the greatest immune system. He gets sick ALOT, and very easily. When he gets sick he is usually sick for weeks, and he has a harder time fighting off things. This is very difficult and very exhausting. At the same time, I learn so much from being patient. Which I am thankful for.
                 This is one of my favorite talks about patience from 
JOSEPH B. WIRTHLIN. Here's is a few points from his talk about patience that I love ….."We should learn to be patient with ourselves. Recognizing our strengths and our weaknesses, we should strive to use good judgment in all of our choices and decisions, make good use of every opportunity, and do our best in every task we undertake. We should not be unduly discouraged, nor in despair at any time when we are doing the best we can. Rather, we should be satisfied with our progress, even though it may come slowly at times.
Patience with family members and others who are close to us is vital for us to have happy homes. However, we often seem more willing to be courteous and polite with strangers than with those in our own family circles. For some reason, criticism, sharp language, and quarreling too often seem to be acceptable at home, but not away from home.
Husbands, be patient with your wives; and wives, be patient with your husbands. Don't expect perfection. Find agreeable ways to work out the differences that arise. Remember President David O. McKay's wise counsel regarding marriage: keep your eyes wide open before marriage and half closed afterward .Perhaps, on occasion, our wives could get into the car and honk the horn while we, as husbands, get the children ready."
        I Love all those points! There is so many times we want things to happen now. It's amazing how hard being patient can be sometimes, but in the end it can also be so rewarding. It has been a blessing in disguise for me. 
         "The lessons we learn from patience will cultivate our character, lift our lives, and heighten our happiness".  -Dieter F. Uchdorf 
Hope On. Journey On.
Stephanie