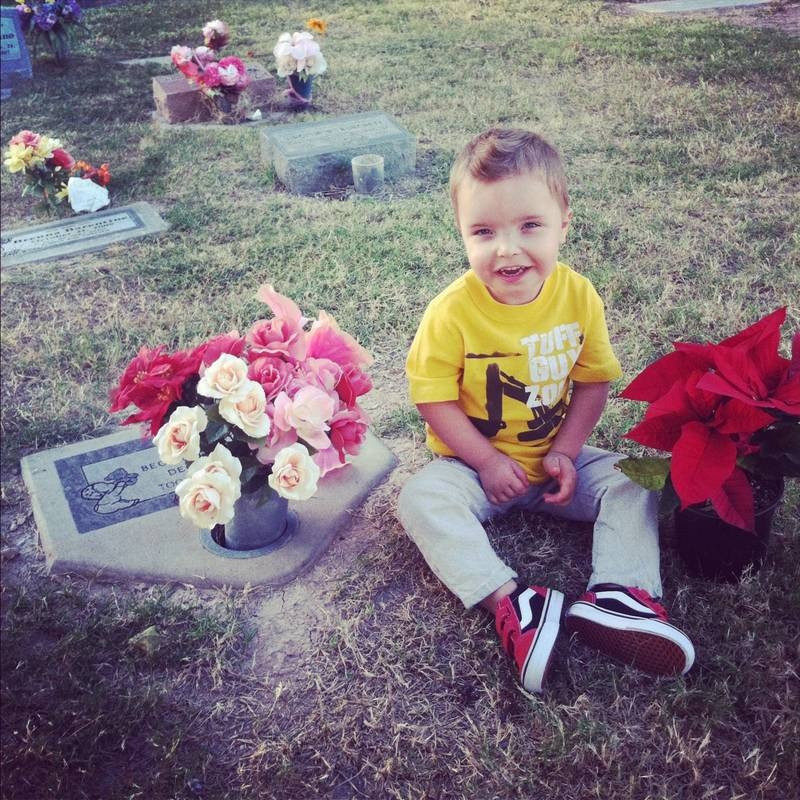 When I was little I was so excited to get married one day and have kids. I've always looked forward to having kids, and I wanted a lot of them. I never imagined my life to be what it is today. Looking back, my wedding day was perfect. I loved everything about it, and life was good. About two months later we found out I was pregnant, and we were so excited. My pregnancy was going great until one check up I went to. I soon learned I was in pre-term labor. Little did I know my dreams were about to be cut short. All day long they tried stopping my labor, but there was nothing they could do. I ended up delivering and losing our sweet baby boy we named Beckham. The pain I felt was unreal, and then came the hardest days of my life. I have never experienced anything like that.I cried everyday for months. I didn't know what to do or where to go from there. The pain of losing a child is something I can't explain and something I will never ever forget.
A few months later, as I was still in the grieving process, my mom started getting very sick. We soon found out she had cancer. I remember sitting in the doctor's office with all my siblings, as the doctor told us there was nothing else they could do for her. I couldn't believe I just lost my baby and now I was going to lose my mom. Exactly 6 months to the date and time of losing Beckham, we lost my sweet mom. I was now trying to grieve over losing my mom and baby.
When my mom passed away I was 12 weeks pregnant. I was being very optimistic. I had a very difficult pregnancy including 5 months of strict bed rest. It was one of the hardest things I have ever done. Although I was still trying to keep positive, at 28 weeks pregnant we found out our little boy had some medical issues. My heart was broken all over again. Let's just say my positive attitude went right out the door. I was pretty much hopeless at this point. I remember being so angry wondering how this could happen, especially after everything we had already been through. I didn't think I could handle one more bad thing.
At 36 weeks we had our sweet little Krew. At a few days old, we found out Krew needed open heart surgery, and would be in the hospital for months. There were times I didn't even know if Krew would make it through. All I could do was pray and have faith. Krew is now 3 years old. The last 3 years Krew has been through more than I ever imagined. One of the hardest things for me has been to have to watch Krew suffer through the things he has gone through. You just wish you could take their place.
Since having Krew, my life has changed tremendously. Krew is the biggest blessing I could ever ask for. I never imagined what I could learn from such a sweet spirit. Everyday I am truly thankful just to be in his presence. Krew and Beckham have taught me more than I ever thought possible. I now feel like I am the luckiest mom in the world to be a mother to two perfect, sweet spirits.
There were many times when I thought there was never going to be a light at the end of the tunnel. Life is hard sometimes. I have always told myself, "I can make it through hard times." With all of these hard challenges and trials, it has brought me great opportunities to lead a happy and positive life, which I am now so very thankful for.
Hope On.  Journey on.
Stephanie