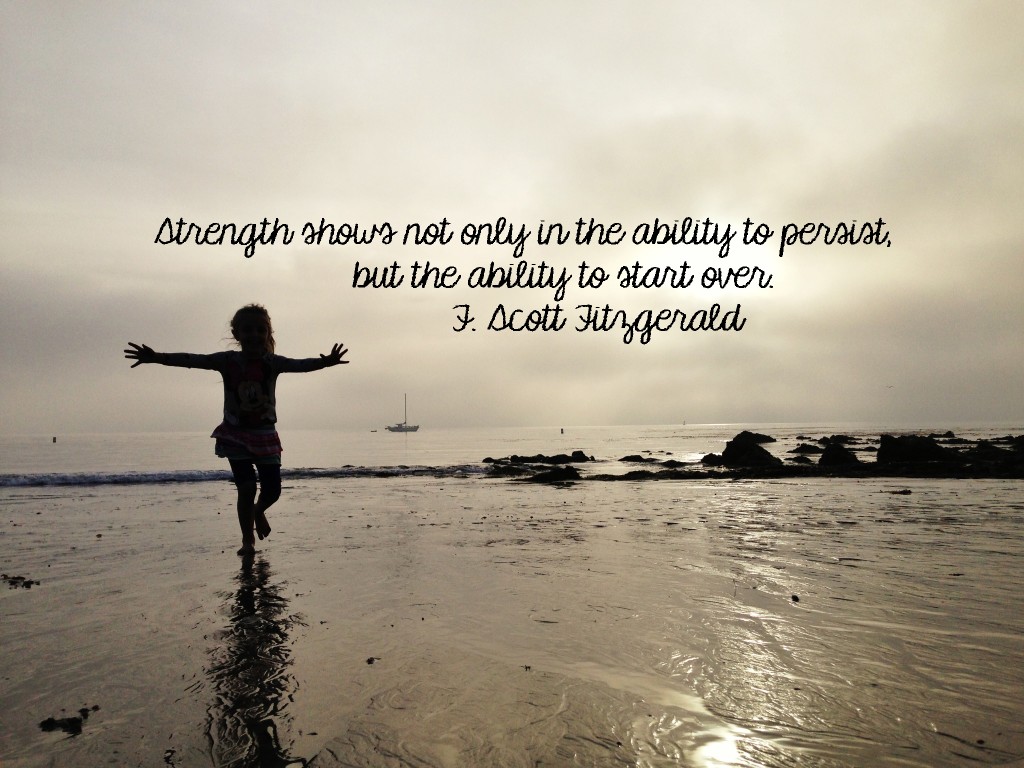 About 5 years ago Matt and I bought our perfect little dream house. It was in the neighborhood we had been scoping out for months. It was colorful, full of character and we loved everything about it. It was just the right size for our little family and our plan was to be there basically forever. Two years went by and we had grown to love our neighbors and everyday was such pure joy living there.
Matt and I bought our home when the market was at it's highest, well after two years of living there the housing market went down hill fast and continued to do so. With people losing jobs and homes, it affected our business terribly. We had a healthy savings and we had been paying off most of our debts, so we had only one very large credit card left. We decided to pay a company a few thousand dollars to "modify" our loan. Our home was worth about $170,000 less than what we paid for and a loan modification would lower our interest rate as well as our monthly mortgage payment. We thought this would be a good idea, since the economy was so bad and we knew that could have a major affect on our business in the year to come.
Everything was going great! Communication with the company modifying our loan was going smoothly and they continued to assure us that all was well and we were on track. Well, about a month went by and we had little communication with them. We went out of town to photograph a wedding and when we arrived home there was a typed letter taped to our front door that said our home had been sold at auction and we had 20 days to be out. You can imagine the flood of emotions that ran through our minds. Our stomachs sank. We were confused and thought it was a joke and definitely a mistake. It was late at night,  so we couldn't make any phone calls, but I immediately sent an email to the man we had been working with, the email bounced back and my stomach sank a little deeper. 
The next morning I called and the number was disconnected. We tried and tried and couldn't get a hold of anyone working at the company that was modifying our loan. We felt cheated, we felt angry, we felt lost, and we felt so defeated. At this time we also, had a very large credit card that we put business and school expenses on. The card payment was way over due and as we went to our bank account to assess the situation, we were surprised to see all of our savings were completely gone. Apparently if you owe a credit card company money and you don't pay the balance for months, they can have all access to your bank account. They took every penny we had out of our savings account to pay off the debt we owed. So, here we are. We had zero dollars in our bank account and we just lost our dream home. What do we do now?
I sat on the phone crying as I talked to the company that bought our house. They didn't care about my grief, they said that we had to be out in 20 days and they would give us $2,000 if we didn't trash the place. Prior to this home we had bought a home in Phoenix and sold it and made a very large profit off and of it. We put that large profit all into this home and lost every penny of it as well as every penny we had worked so very hard for in our business.
I was still grieving over the loss of my mother and I was suffering major depression and anxiety from the birth of my daughter. It was one of the most difficult times of my life. Matt and I had a decision to make. We were afraid and we were so very lost. Matt looked at me and said "If we were to ever move to California, now would be the time." We had nothing financially to lose, it had already all been lost. I went to my room and said a prayer, then came down the stairs and said "let's do it".
I can't say that I wanted to move to California, I just wanted to move and I wanted to move far away. I didn't want any reminders of my mom, of our financial burdens, of all the anxiety I was having. I just wanted to run far away from it all. We listed nearly everything we owned on Craigslist and sold what we could. We packed up what we had and we moved to a small little condo it Orange County. 
The whole experience sucked. I hated it. I hated that we had built a beautiful home and a successful business in Arizona and we had to start all over. I felt as though all of our hard work was for nothing. To say that I was discouraged at the time would be a large understatement, we had hit rock bottom with discouragement.
The strangest part about this whole situation is that I am so very thankful for every bit of it, because we would have never moved to California other wise and we are so happy and so grateful to be here. We have spent the last few years building our business here and we have worked harder then ever before. We are not where we need to be financially, but continue to work so very hard and continue to build a successful and happy business here in California.
Sometimes super crappy things happen, like losing your house and all your money and investments. I can tell you that at the time I couldn't see a silver lining, but it came and it came in such a wonderful way. As I drive the streets of California I feel the California sun on my skin and I still can't believe we live here. The sun is the perfect warmth, the clouds and sky are the sweetest blue, the oceans are beaming with beauty and my favorite place on earth is just a few miles away. When life drop kicks you to the curb, get up and dust yourself off, wipe away your tears, and look up. I am certain that life kicks us down, so that when we get up we are geared toward a different direction than the one we were headed too before we got knocked down. A better direction, one that will lead us to greater paths of hope and exciting new adventures.
Hope on. Journey On.
Angie