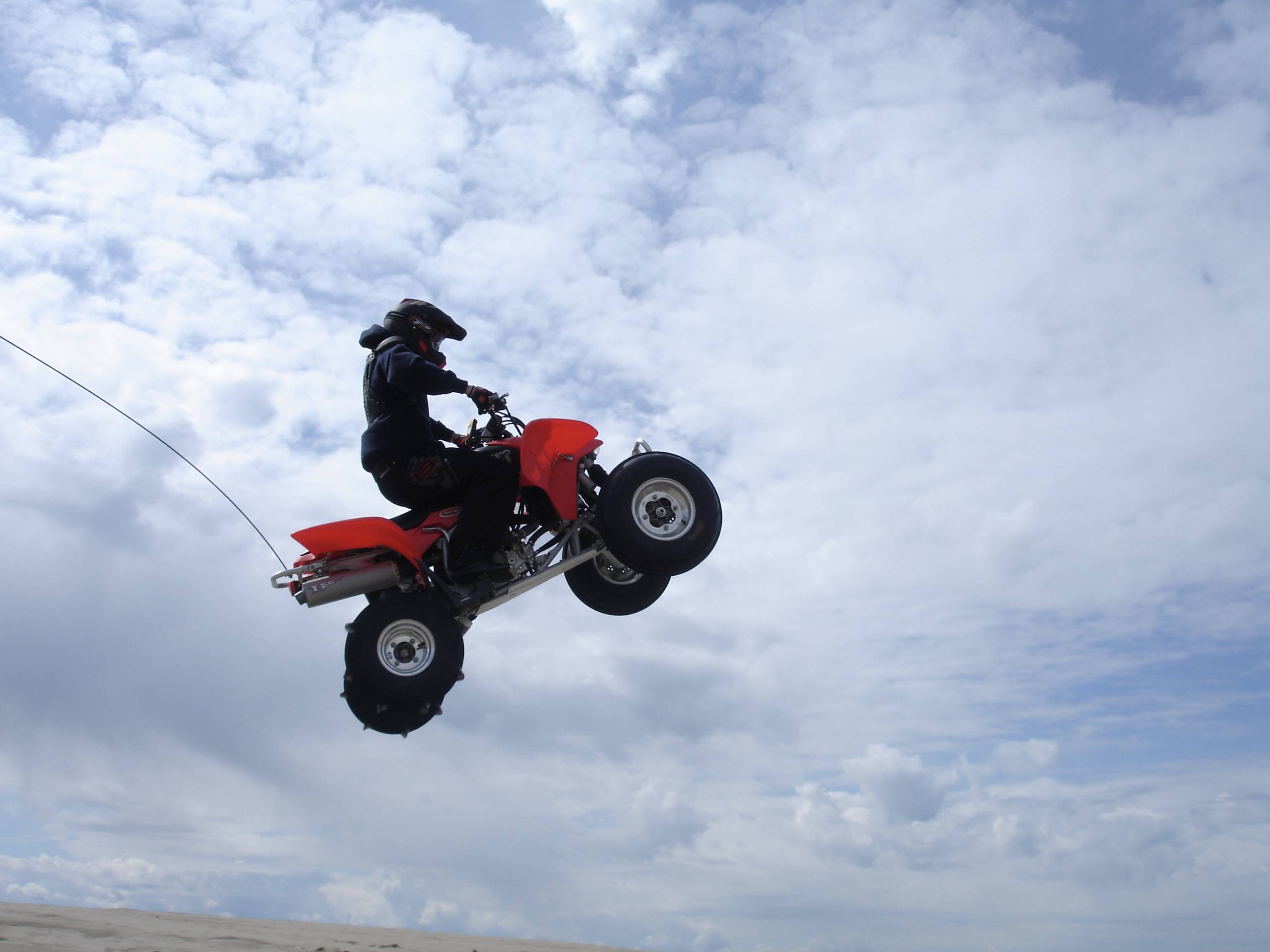 "People think chutzpah is in the genes.  It isn't…..it's in the needing and wanting and being willing to fall on your face.
It isn't fun….who wants all that rejection, but life is sweeter if you make yourself do uncomfortable things"
-Helen Gurley Brown
This is my husband jumping his quad at the sand dunes.  We used to load up our trailer and take out the quads and our sand rail every weekend in the winter.  This was my husbands passion.  One weekend he went off with his friends to the dunes.  My neighbor was over with me when they left, and asked me if I was ever worried about him getting hurt.  I guess I hadn't thought about it much.  We were young, 25 years old, and I think at that age we just thought we were invincible.  Fast forward to 24 hours later.  My sister in law called in tears saying that Damon was in a wreck, and she spoke the words that are forever etched into my memory, "He doesn't look good."  
I remember just falling to the ground and onto my knees to pray that Damon would live.  We had 3 boys ages 3, 1, and 8 months.  How would I go on without him?  My sisters came to my aid, and my sister in law drove me down to the hospital. I walked into the ICU and I looked at Damon,and he instantly started having a seizure, and then I heard….BEEP…………….his heart stopped. Next thing I knew, Doctors and Nurses flooded into the room and kicked me out.  I fell down onto the floor in the hospital and I remembered begging out loud to God that he would let Damon live.  That night his heart stopped once more.  By morning I expected the worst case again.  But I walked into that room and he was awake, and asking when he could leave.  The Doctors said he would need to be transferred to the Valley, and be in a rehab center for a few weeks.  They obviously didn't know Damon, because there was no way that would ever happen.  I have never met a more motivated person in my life.  He is one of those people who firmly believes that he can do anything, and I mean anything.  He told the hospital staff to get his paperwork together, because he was walking out of that hospital tomorrow.  They laughed, but guess what….he walked out of there the next day, and never looked back.
Chutzpah is defined as a personal confidence or courage that allows someone to do or say things that may seem shocking to others.  I have always admired this quality in my husband.  He is not afraid of anyone or anything.  He's not afraid to die, and certainly is not afraid to live.  He has some serious chutzpah.  Do you have it?  Do you have a personal confidence in yourself? How courageous are you?  Are you assertive with other people, or are you afraid to stand up for  yourself?  Are you ready to make some life changes?
The time has come to be, say, and do what you have always wanted to.  Take some action.  Write out the things that you struggle with.  If you want self confidence, then start pampering yourself more.  Watch your thoughts and words that you say about yourself.  Put up sticky notes around your house that give you reminders about how amazing you are.  Meditate and visualize  the person you want to become.  Set goals and work toward them.  If you want more courage, then you have to continue to move forward even in your moments of fear and doubt.  Remember to breathe, and use your positive inner self talk when you are overcome with fear.  Accept it.  Do not run from your fear and panic.  The only way to heal from anxiety is to accept it, and once you stop giving it so much attention, it won't hold the terror that it once did.  Then you will gain more confidence in your abilities to act in certain situations.  Take your life by the reigns, and lead yourself to the place that you have dreamed of going to.  Find your chutzpah. So what if you are afraid. Must emotions and feelings ruin your life?  Take your power back and win the battles with your fears.  They have nothing on your magnificent self.  Take the power back, and live a life filled with extreme chutzpah!
Hope On. Journey On.
Jenna