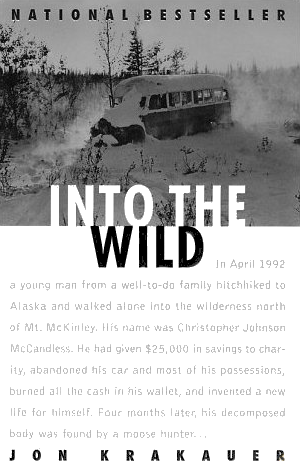 I have a slight and by slight I mean a major obsession with this time of year. The spirit it brings, the family and friend get togethers and the joy and meaning behind Christmas time brings me more happiness than I can explain. I dream about Christmas often. Every year as December rolls by I contemplate on ways that we can make Christmas about Christmas and not about crazy amounts of gifts.
I have this favorite book called "Into the Wild". It is a true story based on the life of a young man named Christopher McCandless. My biology professor challenged the class to read it. He said it would "change our lives". Well, how could I refuse that? I picked it up and didn't put it down until I was done. It did change my life and I was in awe of this young man. Most people thought he was crazy, and although he was an extremist and went to the extreme with the way he chose to live his life, I admired his passion and love for simplicity. Later they came out with a movie based on the book and the soundtrack by Eddie Vedder as been a favorite since the day I heard it.
My favorite song from the album is a song called "Society". Here are some of my most favorite parts of the song.
 It's a mystery to me We have a greed with which we have agreed
And you think you have to want more than you need
Until you have it all, you won't be free
 When you want more than you have, you think you need
And when you think more than you want, your thoughts begin to bleed
I think I need to find a bigger place
Cause when you have more than you think, you need more space
 There's those thinking more or less, less is more
But if less is more, how you keepin score? 
If I ever feel like Im getting wrapped up in thinking "I want" or "I need" to be happy or fulfilled I think of these lyrics. It is easy to feel that way this time of year, thinking we need loads of fancy packages to make it a very merry Christmas, but we don't need more stuff to have a joyful Christmas. 
Christmas time can be so incredibly magical and joyful, but I also know it can be so stressful for people who have financial struggles. We all love gifts and that is such a fun part of Christmas, but I want to give you some ideas to keep Christmas special as well as ways to teach the kiddos about the true meaning of Christmas, without having to spend to much money.
 Look on the Internet for homeless shelters and see what kind of service they need this season. Many need clothes, toys, and food.
You can also spend time cleaning the shelter , this is an awesome experience and great way to get your older children involved in serving.
Start traditions or carry on the ones you have. Spending time together as a family is what your kids will ALWAYS remember and be grateful for.
One of our favorite things to do each Christmas season is go to Denny's or Ihop for some french toast and waffles and then give the waitress a hefty tip. The kids love doing this, as they see the joy it brings to the waiters face.
Volunteer at local churches and food banks.
Bring Christmas dinner to someone.
12 days of Christmas. Pick a family or someone who may be struggling financially that you can do the 12 days of Christmas too. We had this done almost yearly when I was a kid and I cant tell you have exciting this was for us! We waited in anticipation daily wondering what surprise would end up on our door step. Not only was this so exciting for us, but we felt the love of those who secretly served us. 
 Here are some other fun ways to get the spirit going without spending to much money.  Build ginger bread houses with all the neighborhood kids, sit by the fireplace and read a fun Christmas story or the birth of Christ,  walk through the neighborhood with hot cocoa and look at the lights, make Christmas cards for the elderly in care homes, make a pact with your family to be kind to each other the entire month ;), make an advent calendar with a Christmas related scripture reading for each day leading up to Christmas, and go Christmas caroling in your neighborhood. These are just a few fun ideas. There are endless possibilities. Get creative and get your entire family in on planning ideas of fun activities as well as service. We all know that serving others brings some of the greatest joys we can feel. 
 One of my favorite realizations in history is made by the Grinch when in the book it says
 "And the Grinch, with his Grinch-feet ice cold in the snow, stood puzzling and puzzling, how could it be so? It came without ribbons. It came without tags. It came without packages, boxes or bags. And he puzzled and puzzled 'till his puzzler was sore. Then the Grinch thought of something he hadn't before. What if Christmas, he thought, doesn't come from a store. What if Christmas, perhaps, means a little bit more."
 Christmas does mean not only a little bit, but a lot more and by the end of the year most of the presents your kids get will be broken or on their way to goodwill. Don't you worry about what your friends are getting or what your friends kids are getting for Christmas. Enjoy this Christmas season and enjoy giving and receiving, both are a wonderful blessing.
 Hope on. Journey On
Angie